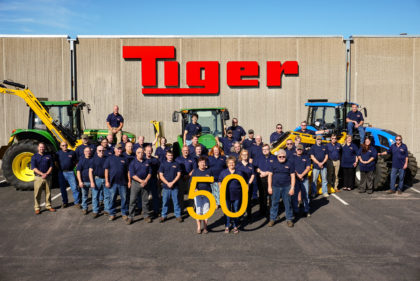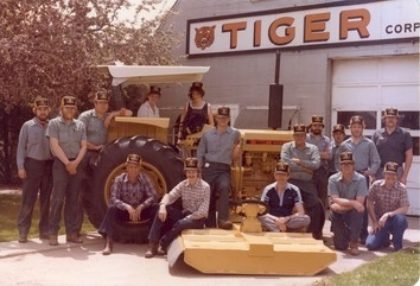 Tiger Mower was born in Sioux Falls, South Dakota in 1968 when Roger Lunstra welded together the first prototype. During Tiger's early years, it was just a small part of Sam Taylor's heavy equipment business. Tiger Mowers were built back then in between repair jobs on other equipment. But word began to spread about this amazing mower that was doing 10 times the amount of mowing that sickle bar mowers of the day were doing!
Roger Lunstra and Sam Taylor soon began to realize that they had quite a machine. A patent was applied for and approved.
From 1971 to 1981, demonstrations of the Tiger 60" Side Mower were conducted throughout the country, and Tiger dealerships began to be established. In 1981, there were 35 strong Tiger dealers through the United States, giving Tiger coverage in all but five states. Tiger's growth was steady but slow. Efforts continued to promote Tiger on a nationwide basis, and the name "Tiger" became synonymous with "highway mowing".

In 1983, Roger Lunstra - the original inventor - became the sole owner of Tiger. For the first time, Tiger was on its own, in its own building, with its own staff, and the inventor was able to devote full resources to Tiger. In the spring of 1985, Tiger hosted all of its dealers in Sioux Falls and demonstrated the equipment. The dealers left excited and motivated, and they began to sell the mowers with a frenzy. Monthly sales began to rise at a rate of 26% to 33%, businesses were asking to become Tiger dealers and customers were calling for more information.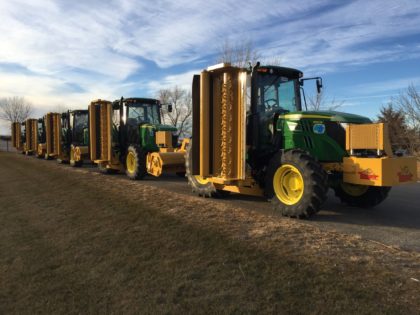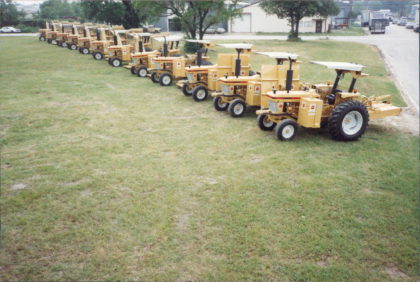 In the summer of 1987, Tiger received an order for 200 mowers from the state of West Virginia. One year later, the company purchased a new building, doubling its production and office space. During this period of growth, Roger Lunstra was approached by the Alamo Group, a company interested in purchasing the business. Alamo Group, a New York Stock Exchange company, had grown large because of its vision to acquire successful roadside mowing companies like Tiger. In 1994, Tiger joined the Alamo Group.

Alamo Group is comprised of European and American companies devoted to the production and marketing of agricultural equipment and roadside maintenance equipment. With the addition of Tiger Corporation, Alamo Group became one of the largest suppliers of mowing equipment to governmental agencies in the United States. The Alamo Group employs over 2,300 people around the world. Today, Tiger Corporation continues its operations in Sioux Falls, South Dakota and has approximately 52 team members.